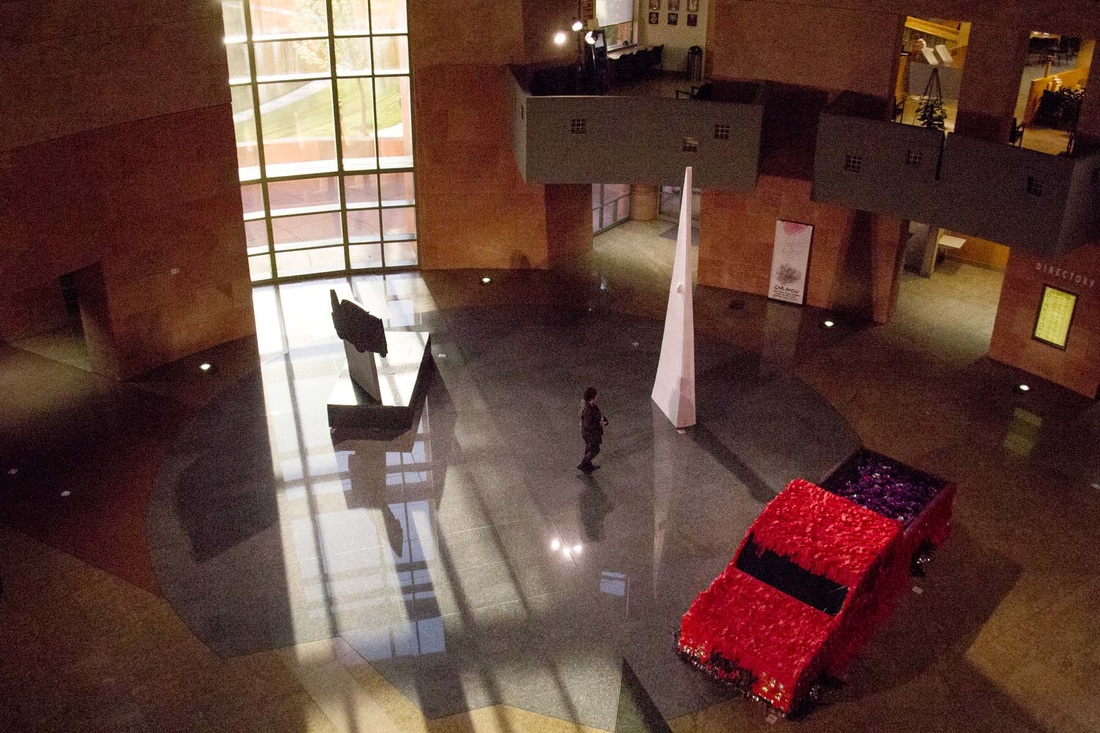 "Car Show"
Artists Justin Favela and Sean Slattery are driving and riding shotgun for each other in "Car Show" at Clark County Government Rotunda for three installations commenting on media events connecting car and celebrity. At the center of each temporary sculpture are names that have status of a Las Vegas marquee headliner: Selena, O.J., and Tupac. In this exhibition they elevate metal to a co-star arranged in a three-act operatic tragedy of paper, cardboard, foam, and plastic.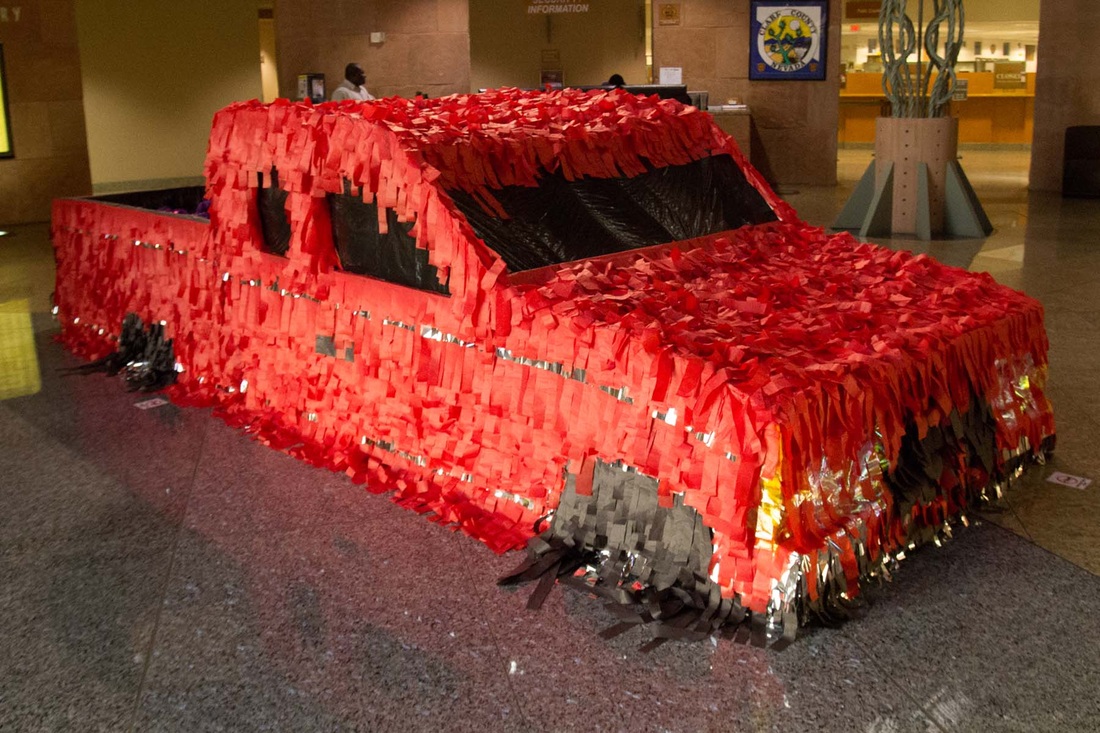 "La Sangre Nunca Muere"
"La Sangre Nunca Muere" is Favela's emotional and personal tribute to Selena Quintanilla-Pérez — whose was shot 20 years ago today, March 31, by Yolanda Saldivar, who founded Selena's fan club before being hired to run the star's new clothing company. By Favela dressing the blood red GMC pick-up as a life-sized piñata, he reinterprets the truck that was the site for a ten-hour standoff between police and Saldivar. The bed filled with paper flowers in the colors Selena wore at her last concert at the Astrodome, which held an attendance of 61,041, a record that lasted until 2001. The height of the truck as a low-rider makes it appear as if the tissue is weeping on the floor of the rotunda. The sun seeping through the large gallery windows may fade the red to pink. If the paper doesn't change color, it's an eerie reminder on how memory slowly fades.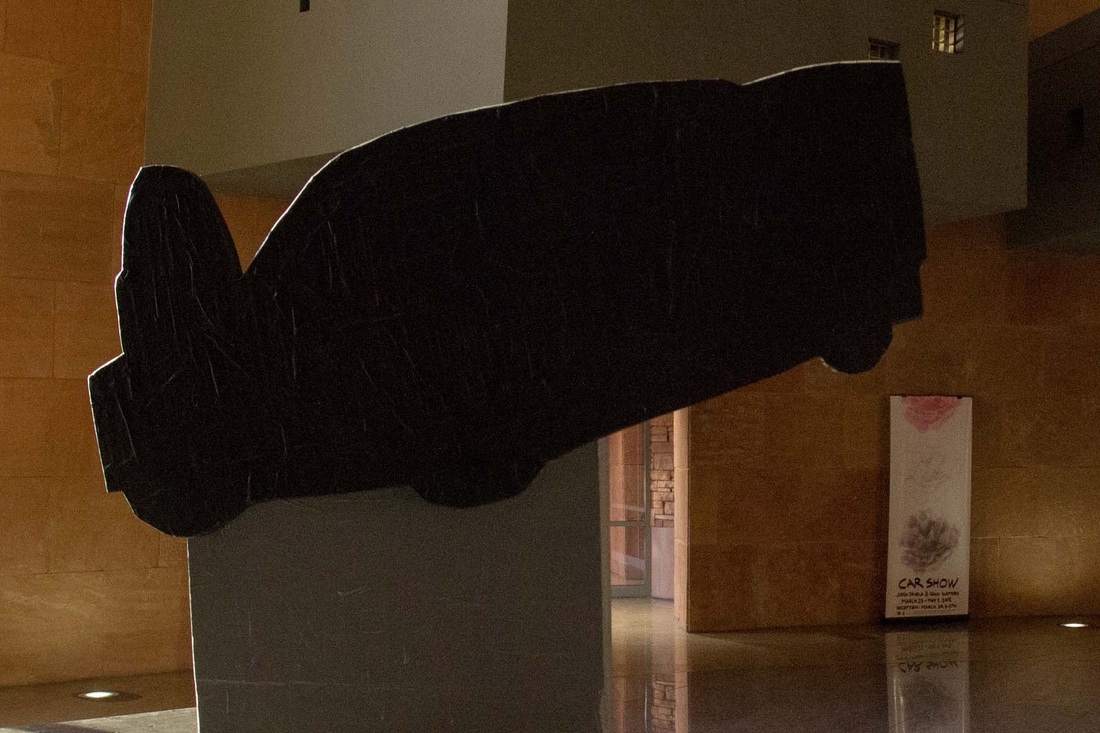 "Proposal for a Memorial at Koval and Flamingo"
Sean Slattery's "Proposal for a Memorial at Koval and Flamingo" uses Tupac Shakur's BMW to mark the Las Vegas intersection when he was gunned down in a drive-by shooting. The silhouette of the car with a door flung open is a flat black headstone, a monolith noting a chain of events still unfolding. The September 1996 shooting came after Shakur watched a boxing match ringside with Marion "Suge" Knight, who drove the BMW that night. The day of the artist's reception for "Car Show," Knight collapsed in a Los Angeles courtroom when bail was announced after pleading not guilty for running over two men -- killing one of them -- in January. The man who died was Terry Carter, 55, a former rap record label owner, giving current significance to the piece titled as a memorial proposal.
This week, news of a recent study examining the deaths of 13,000 musicians revealed that the lives of 50 percent of hip-hop artists ended in murder, making Slattery's silhouette of the BMW not be about a chance of survival, but how gang-like warfare turns a car into a trap, or sometimes an open casket.
"Highway to Heaven"
Together, the artists created "Highway to Heaven" about O.J. Simpson's attempted escape on Los Angeles freeways in a white Bronco in 1994. The viewer's instinct to stand at the base the 12-foot sculpture gives them the point of view of standing on an overpass waiting for the chase below and air circus above to pass by. The forced perspective of the 16-foot-tall triangle of white freeway and white Bronco has viewers as intimate witnesses to the failed escape.

Like cars abandoned on a desert roadside Favela and Slattery use recalled tragedy as found objects. This 1990s trinity of recycled recollection is not in any particular order, and can be read as a jumbled memory. What's clear is the crossfire of shots from firearms and news cameras entombed the three events in pop-culture.

---