Lavender low rider piñata for sale at Justin Favela's "Chop Shop."

Pseudo piñata of life-sized lowriders are having a fitting end in "Chop Shop."
Latino pop culture went for a
cross-country
joy
ride
and came back. Another piece sat in the
Clark County Rotunda.
Now the cardboard and paper parts from those works by
Justin Favela
were culled to make new pieces, like small-scale low riders in colors like baby blues and flamingo pinks, and mini
Selena signatures
dipped in glitter.
Large sections were properly displayed on the wall, sharing space with an even larger Selena banner and paper tires. In the middle of the shop, an intact side panel from a low rider truck attracted gallery goers who knew how to use it for a photo-op, and hit a cholo pose.
When you walked in the storefront that housed "Chop Shop," it was such an immersive installation that when you saw the ice chest, one almost expected to open it and find cardboard cylinders wrapped in decorative tissue to look like cans of beer. No tricks in there. There were actually cans of cold Buds. Still, for a "Chop Shop" on a downtown Main Street, a filled ice chest with beer is an authentic detail.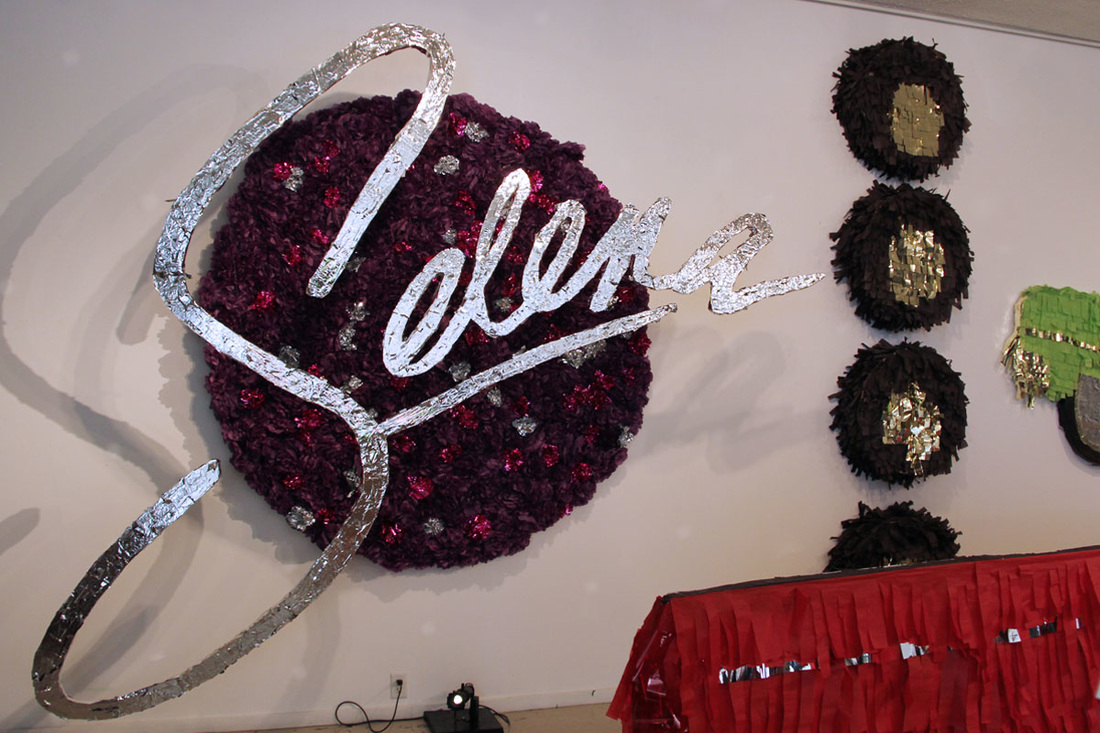 "Selena" next to tires at Justin Favela's "Chop Shop."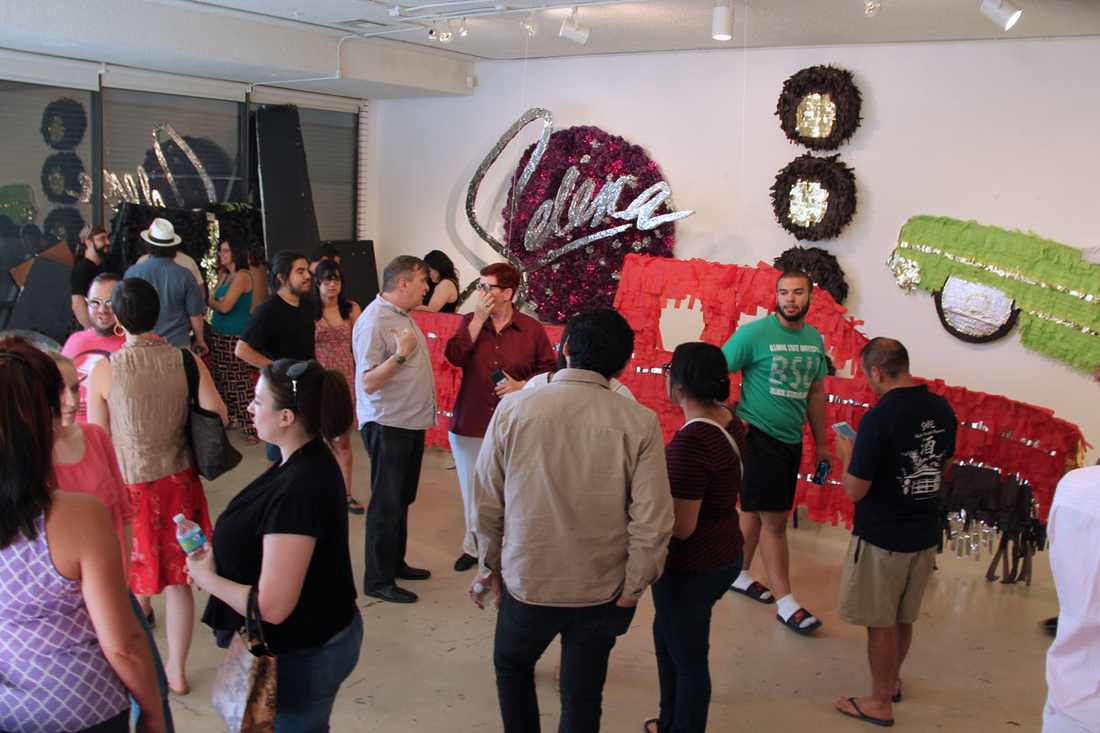 Sales of left over parts, shaped into new works, will support Justin Favela's fall artist residency in Mexico.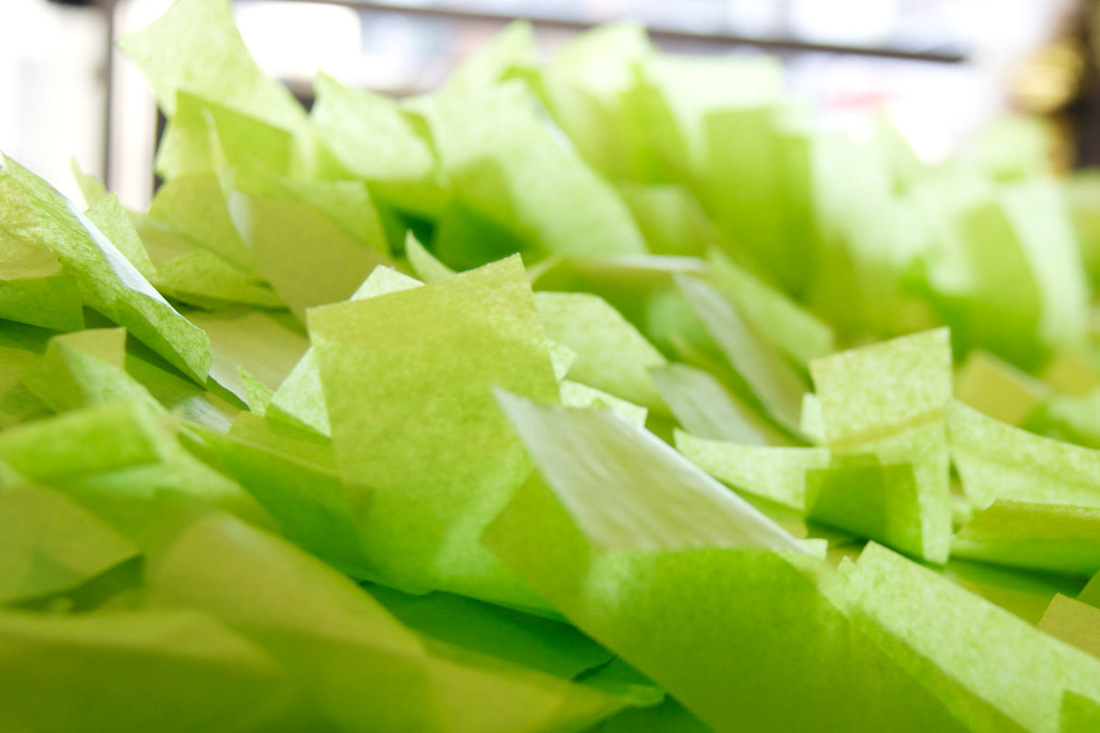 Spare piñata paper and parts in a corner of "Chop Shop."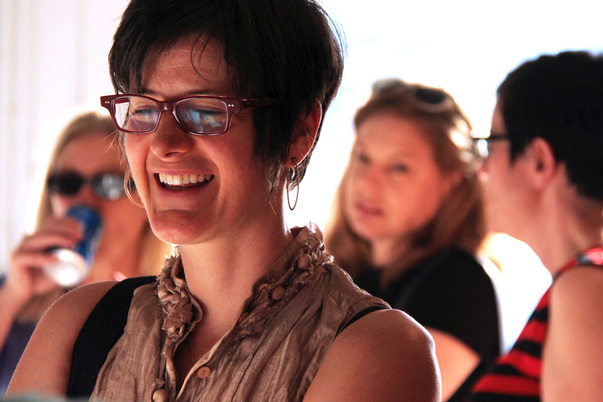 Gallery-goer taking in the visual wit of "Chop Shop."
Playing off commercial typography, this metal door signage for "Chop Shop" could be considered part of the installation.