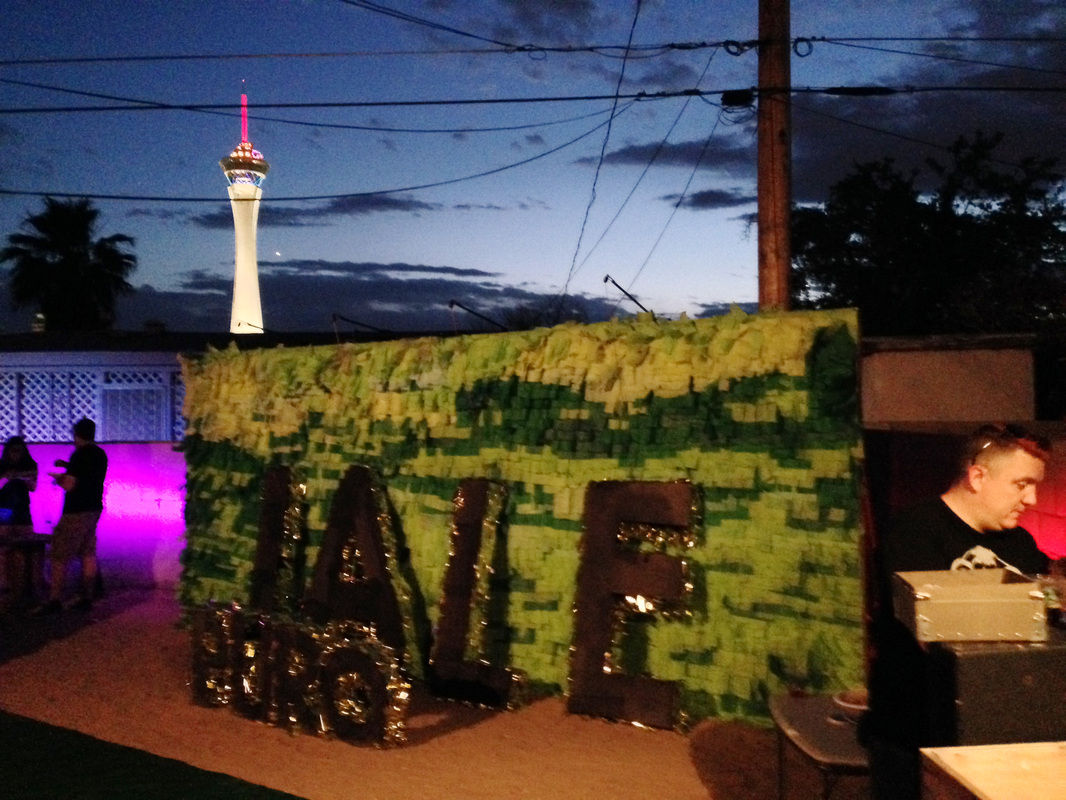 iPhone shot of Puro Jale at dusk.
Justin Favela
"Puro Jale"
(2014)
The Las Vegas Backyard Wall

F

IELD NOTES: Near the end of a cul-de-sac in a downtown neighborhood of modernist homes, one backyard is an outdoor gallery for temporary murals. Those who install works for

"The Las Vegas Backyard Wall,"

a project by Todd Duane Miller and J.W. Caldwell understand the caveat is their art will not last past the next artist.

Artist Casey Weldon influenced the after hours de-installation to become part of the evening, reported

Las Vegas Weekly.

"But Weldon, the sixth artist in the queue, thought it would have more of an impact if the painting were destroyed as a performance."

That seems appropriate in a city where projects are dismantled with ceremony to make way for the next idea. Now the art won't be intact when the sun rises.

On Saturday, Justin Favela stayed with that idea of temporary art and his mural was ready for its sacrifice. It was a set of piñatas assembled by the artist's family, friends and day laborers, said the artist in

an informal statement.

The mural is within the cultural tradition of hand-crafted targets made for ritualistic backyard destruction. The 8 by 20 foot wall was covered in different light hues of green tissue. In front of the wall were the words Puro Jale were made out of individual black block letters, the sides adorned with gold streamers.

"Directly translated, 'Puro Jale' means 'pure pull' or 'just work.' This is a term that I always heard growing up at family gatherings and backyard parties," wrote Favela. "The term was almost used as a greeting,"

The mural shared the yard with a clump of six mature palm trees, lit in the same colors as the distant Stratosphere.

But when Favela danced with his grandmother on a platform built over the soft backyard sand, that spontaneous gesture had the night become more than affectionate cultural parody with thematic music and food. The mural was also an personal response to the Latino cultural traditions of backyards.
MORE ON JUSTIN:
In 2011, Justin Favela spoofed CityCenter's public art programming with cardboard and chicken wire. The Wall Street Journal noticed. "It really annoyed me when they said the CityCenter was going to to be the cultural centerpiece of Las Vegas, we are going to educate everybody, we're going to show them what art really is," Favela told WSJ. "When you go there, its not really about that."
[Video]