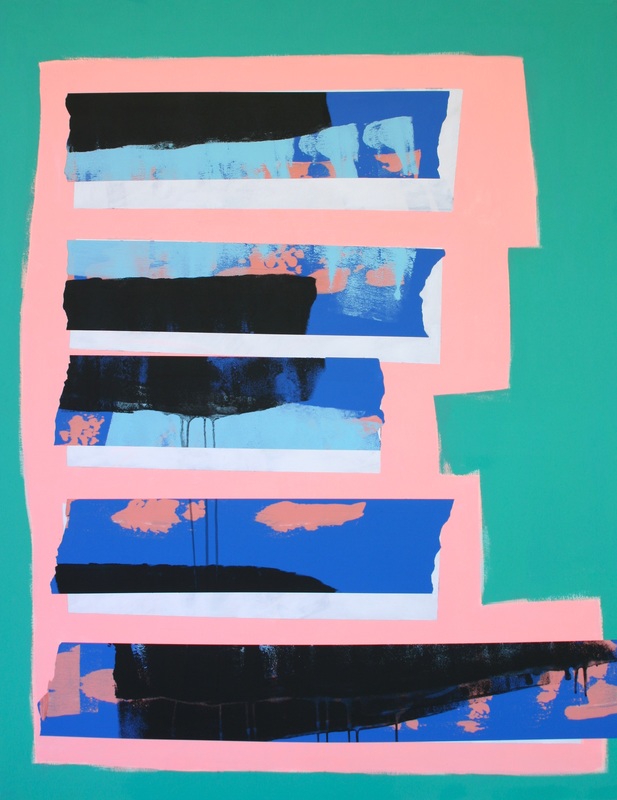 Courtesy Maureen Halligan
Maureen Halligan
'Temporary Fix'
February 22 to March 4, 2016.
Donna Beam Fine Arts Gallery
Ham Fine Arts Building (HFA 145)
on the UNLV Campus

Opening reception
Friday, February 26
from 6­ to 9 p.m.

Thesis shows march on at UNLV. Maureen Halligan's exhibition opens today. Her paintings strive to explore conversations about abstract painting by using blue or green painters tape as an inspiration and tool to test limits and processes of contemporary art, so promises the release:. Based on the artist's previous statements and exhibitions, those promises are kept. More from the release:

| | |
| --- | --- |
| | While using various media such as painting, installation and video, her concept remains consistent; an exploration of the tension between abstraction and representation. Each process is indicative of the relationships formed within abstract painting: flatness or extreme depth, non­objective or trompe l'oeil, organized pattern or chaos, slowed time or a cursory read, an object or an idea. |
"Temporary Fix" is Halligan's thesis show for the UNLV graduate program.
She will graduate in late May with her Master in Fine Arts, and holds a Bachelors of Fine Arts with Honors in Painting from the Rhode Island School of Design.
​ The Master of Fine Arts graduate program at UNLV is a
three year studio program. T
he program includes two solo exhibitions including midway point and final thesis shows.