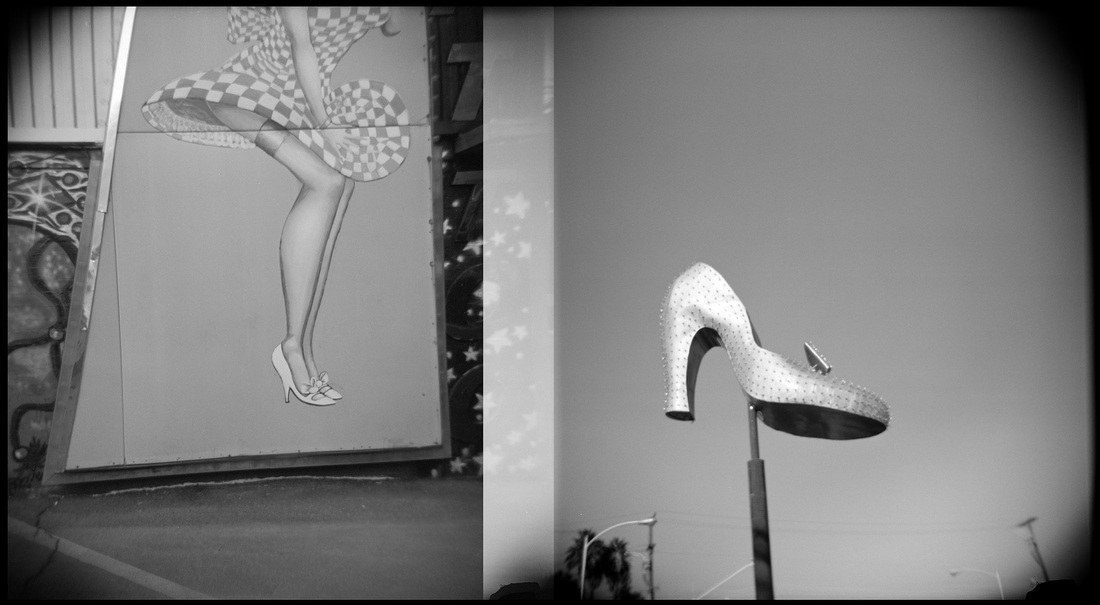 Vegas Shoe. North end of Las Vegas, 2012. Courtesy Antonio Gomez.
FIELD NOTES
: A June 2014 visit to the office of photographer
Antonio Gomez
came after being introduced to his color work in his solo show,"Six Years of Solitude," an exhibition at Brett Wesley gallery a year earlier. His series of
isolated Luche Libre
was based on a childhood recall of "El Blue Demon" and is stirring emotional work from an artist who dealt with solitude during uncertain migration to the U.S. from Mexico.
During the visit Gomez shared other sets, including one that is a recurring theme from artists working in Las Vegas; the juxtaposition of reality and the simulated. That set by Gomez is now featured online at
National Geographic's "Focus."
When choosing which images to pair, Gomez considers three approaches. Along the lines of contrast, Gomez juxtaposes scenes that highlight the contradictory nature of Las Vegas, often building on the theme of Vegas as an adult playground. The second category is comprised of scenes that are physically or psychologically related, such as a similar object in a different context.

His last approach involves overlapping scenes to construct surreal landscapes that seem to extend beyond the frame.

Gomez explains that in addition to forming part of the surreal landscape, the photographs with blurred or repeated shapes mimic the bleary-eyed vision of an intoxicated person, not an uncommon point of view in Vegas.

<snip>

These images explore the city as illusion, and are themselves illusions. "Las Vegas is a place where reality is distorted with its many simulations of places, people, and experiences. It is this that I try to capture within my images."

That June visit also introduced me to his series of
Mexican charrerías,
or rodeos, that's a contemporary connection to Mexican cinema, and by no accident, a connection to the compositions of
Los Tres Grandes,
Diego Rivera
,
José Clemente Orozco
and
David Siqueiros.
Gomez teaches photography at CSN.