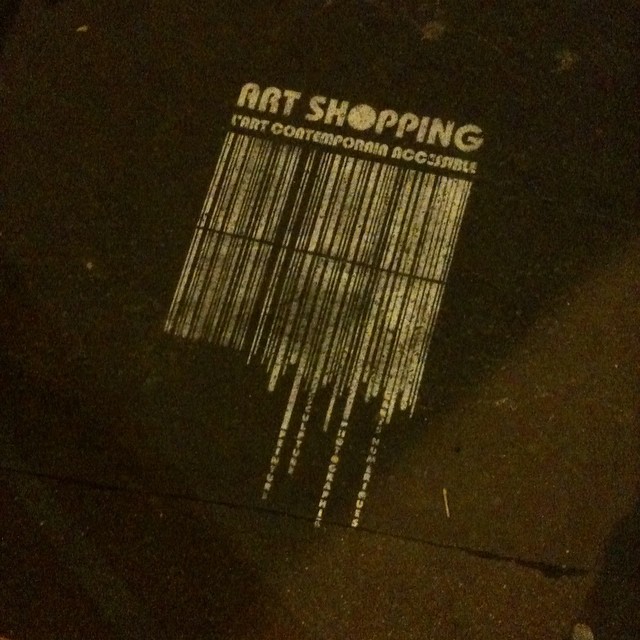 Matthew Couper shared some Parisian street art. Oh yea, works by the Las Vegas based painter are on exhibition at "Au Pair" at
Galerie Gimpel & Müller.
LOCAL
ELSEWHERE
"Parasitic expansion" of suburbia near Nellis subject of Andrea Zittel Wallsprawl. Through August 16, 2015 I Nevada Museum of Art

Georgia O'Keeffe: Ghost Ranch Views through April 30 I Georgia O'Keeffe Museum

Andy Warhol: Portraits at Phoenix Art Museum opens March 14. "This comprehensive exhibition of portraiture by Warhol debuted at The Andy Warhol Museum in Spring 2010 and is on view at Phoenix Art Museum for the first time in the Southwest."

WAY OUTSIDE
Art writer Carol Vogel's files her last column for the New York Times.

Banksy hoax watch. Independent UK

Gallery of Chinese propaganda posters in connection with an exhibition on view in Hong Kong through February 7 I Art Info

Alfred Hitchcock was the supervising director for an unfinished doc of Holocaust. There's a HBO documentary about it. [Los Angeles Times]

"Saturday morning I woke up to a lovely, little Facebook message from an artist by the name of Loris Gréaud" writes Lauren Smart, who was trolled by someone who did not like her review. She stomps right back I Dallas Observer

ADD SMART NOTE: She rounds off the original piece with: "I would argue that he didn't create much art. After all, he knew he was going to destroy it. And what artist would do that?" That's something Las Vegas artists who take down work as an event may want to consider, or have a completed narrative to justify how it reflects the city's tradition of self- implosion.

The lone favorite is Jerry himself.