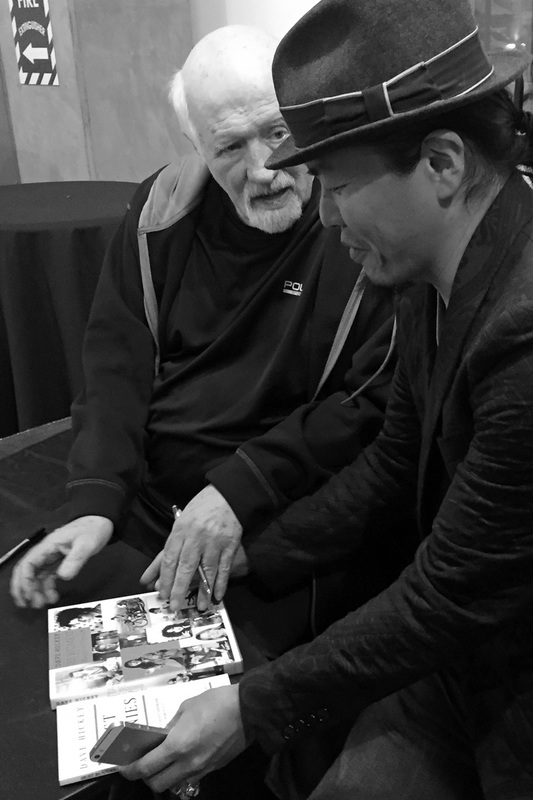 Art Critic
Dave Hickey
with
Sush Machida
after Saturday night's talk at Contemporary Arts Center. I iPhoto: Fuentes

ESSAY AND RANTS:
On Saturday night Contemporary Arts Center hosted a conversation with art critic Dave Hickey and academic
Julia Friedman
to promote Hickey's new release
"25 Women: Essays on Their Art,"
a compilation of essays edited from previously published pieces. Also in the mix are new books
"Dust Bunnies"
and
"Wasted Words,"
the short form and long form documents of 3,000 digital comments from social media between Hickey and his followers compiled by Friedman. During the talk, Hickey compared the online search for truth and discourse to playing in Las Vegas. "No matter how much you put into it, you get nothing back."
RADIO SILENCE:
I first planned to tweet during the panel, which could have been a risky
interchange of ideas
, but was unable to. I was asked to step in as moderator, so my note taking was replace by monitoring the talk and picking spots when to remind speakers to use the microphone. Nonetheless, last minute prepping meant reading as much of "25 Women" that I could, then listening to Hickey reflect on it. Not a bad way to have a day off the social media grid.
Kristen Peterson interview with Hickey I
Las Vegas Weekly
Dave Hickey On Facebook's "Wasted Words" And The Lack Of Good Art I
KNPR
Review of "25 Women." I
NYTimes
Conversations with Dave Hickey Contemporary Arts Center produced by Melissa Petersen.
More photos in CAC gallery by
Checko Salgado