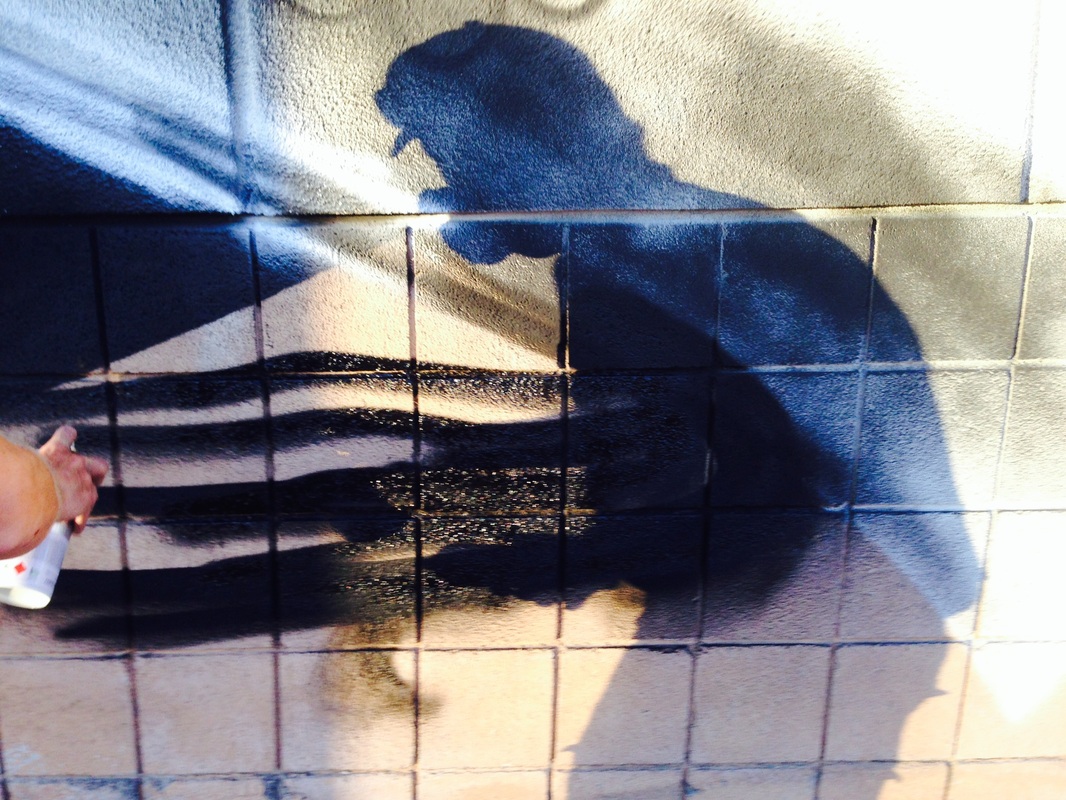 ROA's shadow at work on October 9, 2014 I Photo: PtD
A year ago street artists with international cred swept into the Life Is Beautiful footprint like tourists and instantly became hipper than the room. Their installations gave Las Vegas a way to jump into the conversation with other cities that have large-scale street art enclaves. By staying up, the art programming became more than a two-day festival chasing Coachella or SXSW. It's a highlight of the city's growing public art identity.
Now we can expect to see more large-scale illustration and graphic design with masterful use of scale that overlaps traits with graffiti and the traditional mural.
New installations for Life Is Beautiful 2014 began over the weekend, again under curator Charlotte Dutoit, this time using the moniker "JustKids," a shift away from previous "RiseAbove."
It updates downtown Las Vegas as an urban mural lab that includes works left from the City of Las Vegas Centennial Mural Program in 2005, which generated public art on walls in the mural tradition of being a direct response between city, community and artist with a range of success. That program had a leave-behind of its own, "Zap!," which still hires regional artists to paint on utility boxes that throughout Clark County. There's also the changing graffiti walls of the 18b, the parade of new and archived neon signs that link the arts district past Fremont Street and onward to the Neon Museum, and once there was a small grass- roots mural program for underserved neighborhood just south of the arts district. And this is just in downtown.
Yet, the art is more about branding the artist than being site-specific, as seen from the works from Life is Beautiful 2013 and other concerts that use art to fill out the cultural vibe with music. Many of the completed images could be installed on any city wall. It's the painted version of "plop art," the term by James Wine to describe sculpture appearing in urban plazas that had no direct relationship or response to community or environment.
To be fair, there is no real time for research by the artists who are selected to paint in the streets of downtown Las Vegas. They are busy painting around the globe, and start operating lifts as soon as they come into town.
But really, many street artists who work in large-scale consider community-based murals so last century.
Even so, direct connections to the city from Life is Beautiful 2013 were attempted. The references read like an afterthought. The second piece from D*Face, who uses a Roy Lichtenstein meets zombie as a double pop art reference, is still on the wall of the Western Hotel. The words Fremont and Casino can be seen in the decay of Vhils' mural.
A year later we now wait to see what new art will go up.
And based on last year's mini-
controversy with one mural, which I still say was one of the most interesting pieces from last year, it's safe to presume 2014 concepts were presented and approved.
There's something to think about a benefit of plop mural.
The 2013 murals were neutral, an escape from the large-scale ads in Las Vegas and the Strip that's a constant reminder of local industry, and avoids the usual civic-driven narrative.
Street art's abstraction may be the right starting place for an image-conscious city that often uses the same symbolism to "brand" itself.
For now, let's just note how large-scale street art is a contemporary form of mural that's expected to be nomadic and
ephemeral.
The real power of these installations
are how they
stuck around and became a resident.
---
Most of the mural are expected to stay up, but one never knows. Have another look at some of the current works from the downtown Las Vegas LiB street art portfolio. Photos: Paint This Desert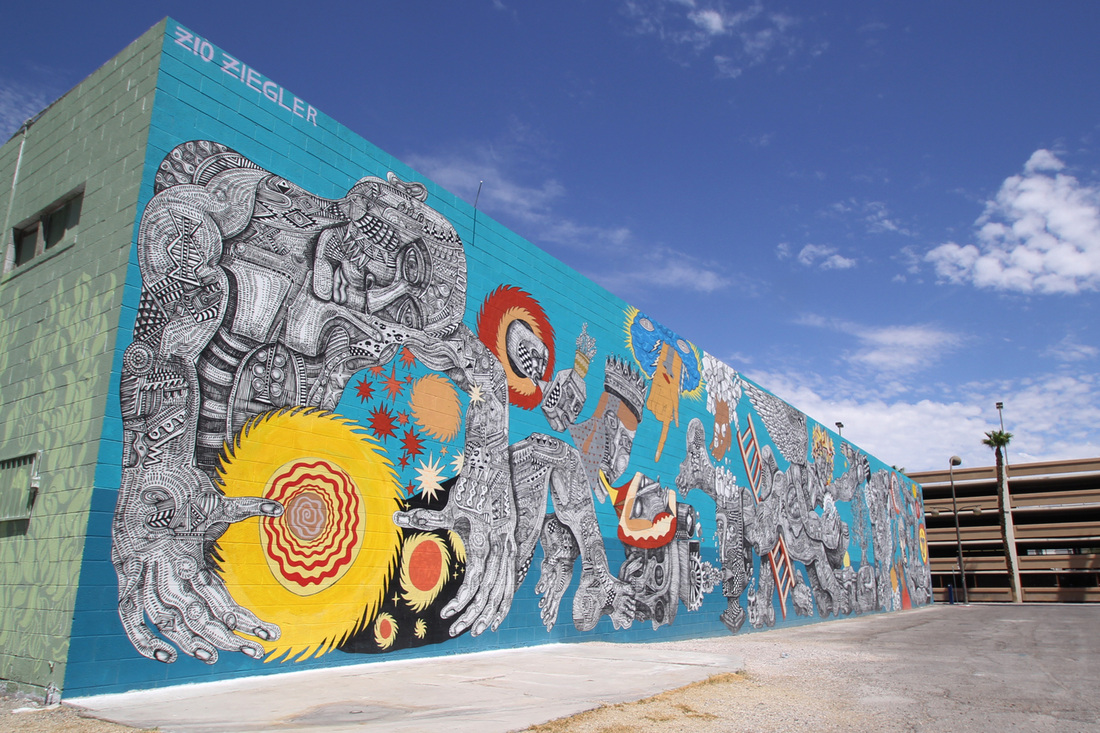 Zio Ziegler is cross hatch gone wild and voted best mural of 2014 by Las Vegas Weekly. The first one was taken down when a property developing decision was made.
Doze Green.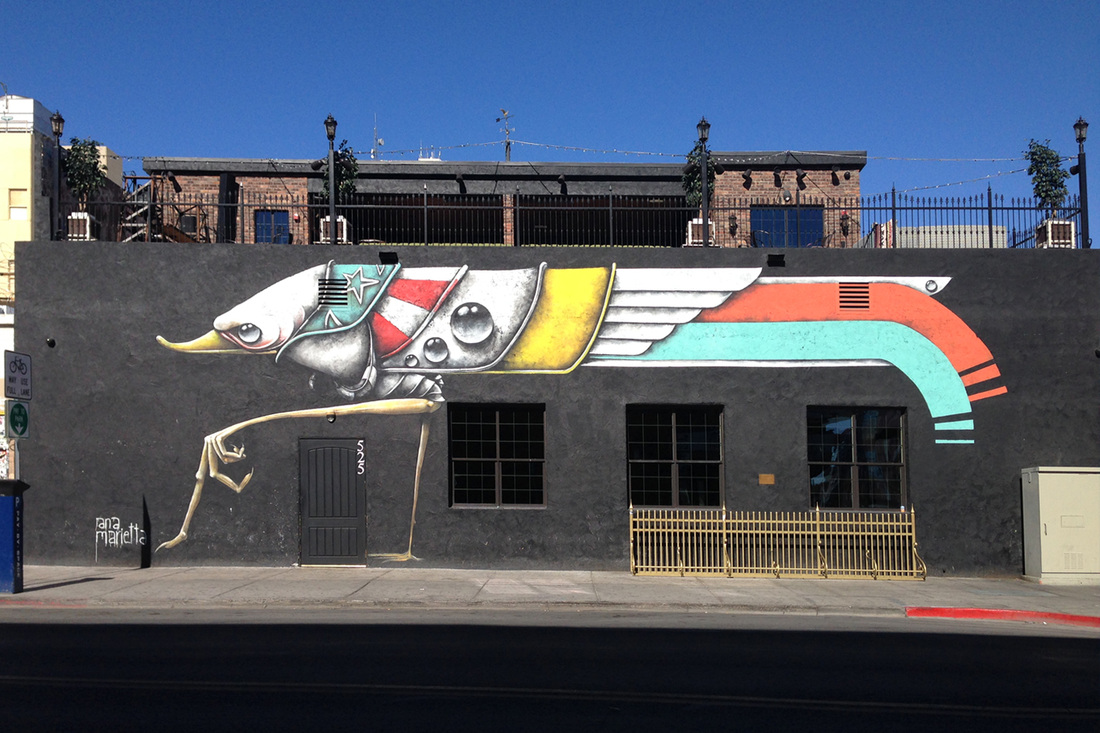 Ana Marietta.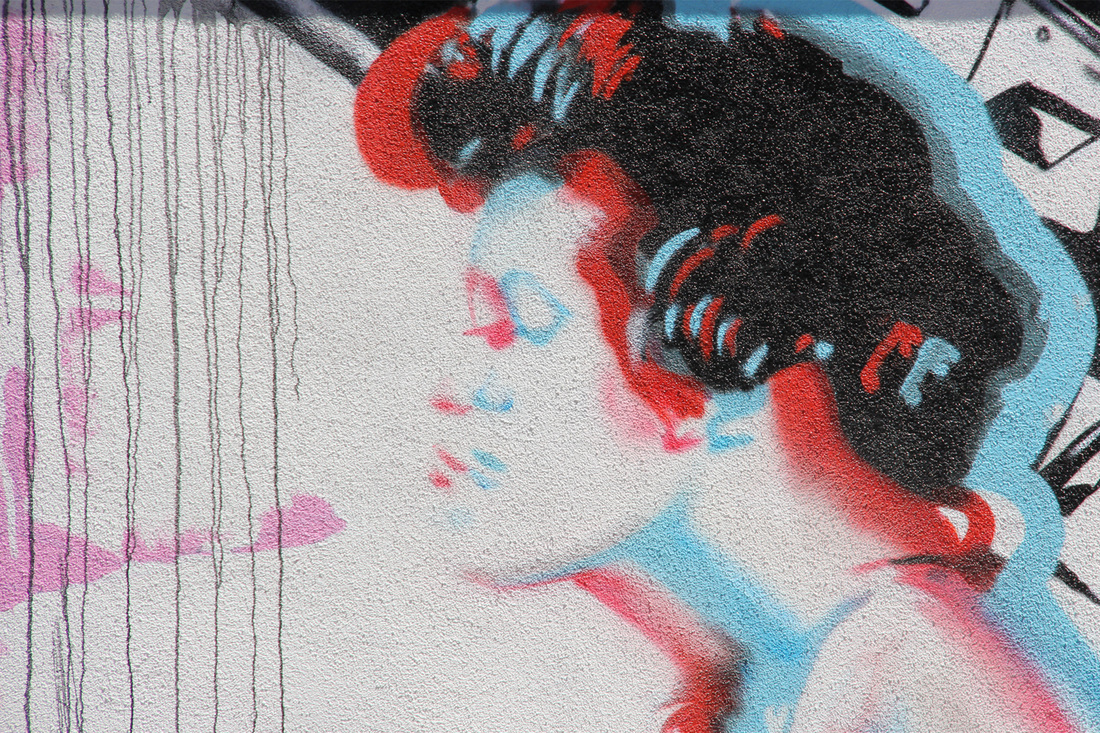 Detail from 3D mural by Aware, with Visual Bluff, Jaber, Dopl, and others.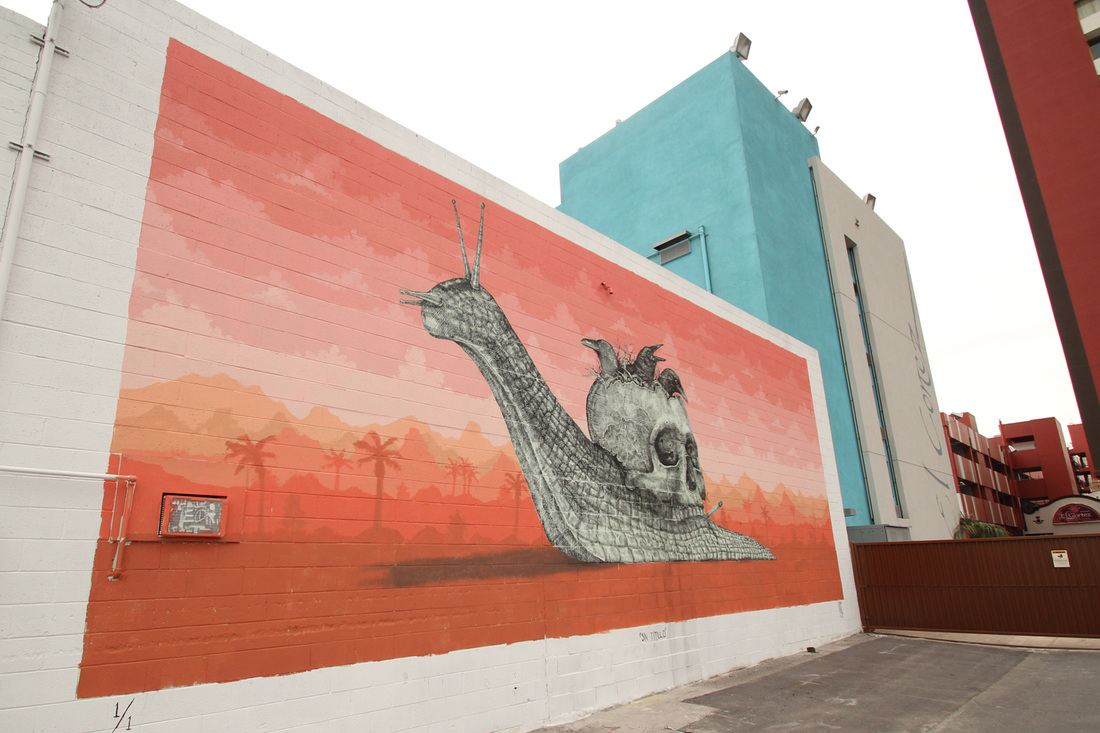 Alexis Diaz cross hatch madness made brushstrokes into a snail transporting a skull.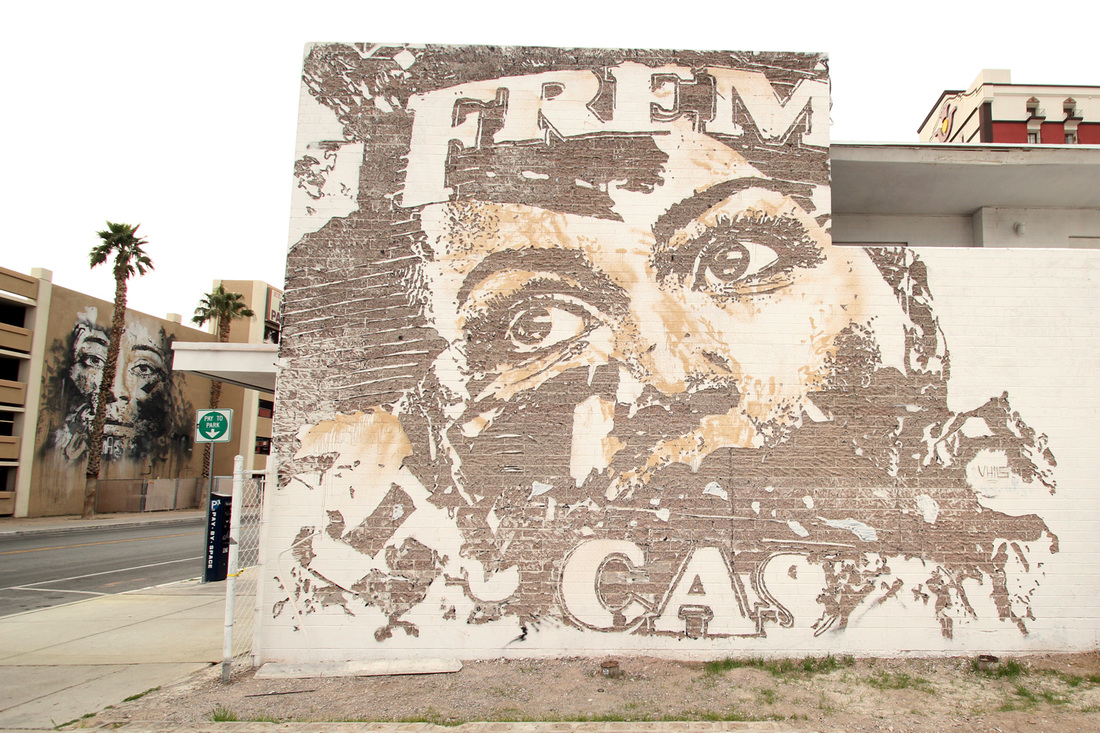 Two pieces from Vhils. One painted and the other in his usual wall carving style.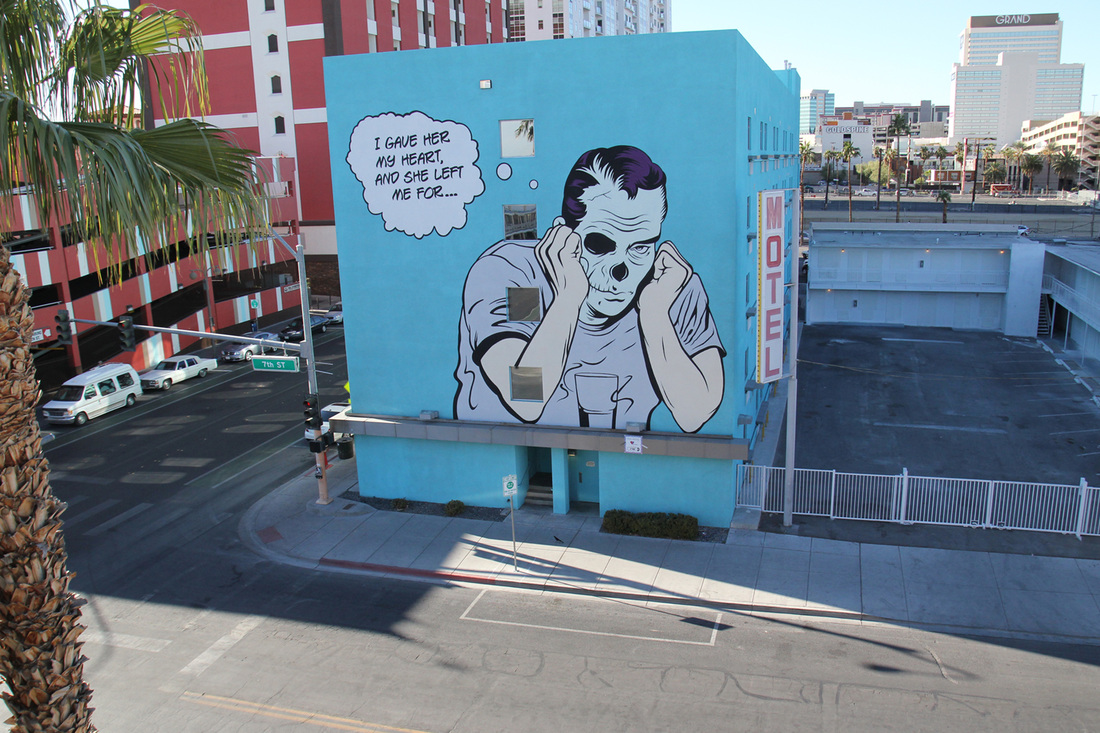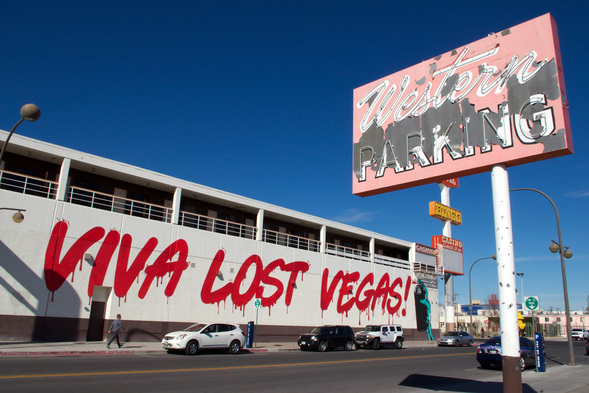 Two from D*Face.