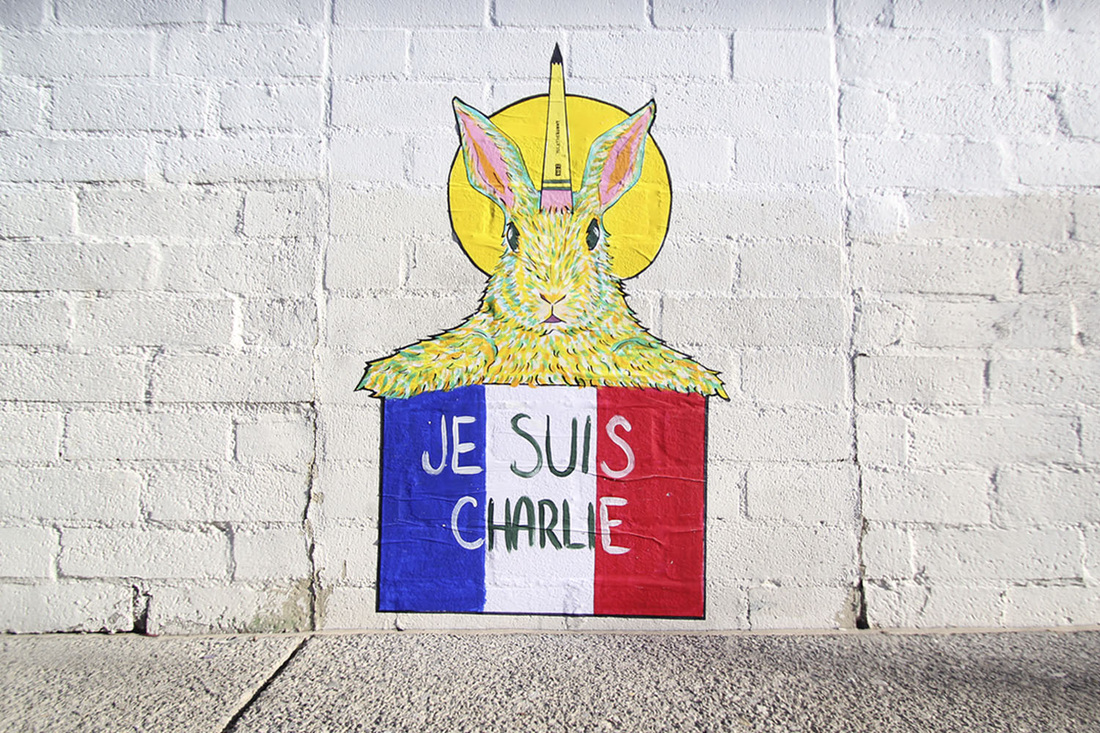 MIlk the Bunny / Je Suis Charlie by Omayra Amador I Photo: PtD
"As an artist, one must live a life full of pure expression. If we let fear enter, we cease to have a voice," wrote Omayra Amador
on her post of with her Milk The Bunny motif donning a pencil. That same day a simple Je Suis Charlie banner was seen on Ming Kitchen. On Sunday, French nationals and supporters marched to Paris Las Vegas, and the resort dimmed the lights of their Eiffel Tower
January 8.
---
Je suis Charlie banner on the wall of Ming I Photo: PtD
The Las Vegas art and culture community are ready to grab their pitchforks and light torches. The razing of the Blue Angel motel began yesterday morning with assurance by the developer the angel is safe. The Neon Museum is standing by, reports Las Vegas Weekly.
---
Life-size fiberglass pachyderm was brought into town to star on the Strip over 30 years ago. It ended up a roadside shill for a North Las Vegas auto body shop. The R-J has the details on the 'angry elephant.'
---
Conservation Lands Foundation field organizer Laura Mistretta is in Las Vegas to lobby for Michael Heizer's "City" to designated as a national monument, reports Kristen Peterson at
Las Vegas Weekly.
Mistretta will make a presentation to the Las Vegas Arts Commission January 15 and Fifth Street School January 22.
Hilary Hunt, also with Conservation Lands Foundation, is scheduled to speak to Clark County Public Art Committee with the same mission on January 27, according to the agenda.
---
More Heizer: On February 12, The Barrick Museum and Contemporary Arts Center will have a free screening of "Levitated Mass," the Doug Pray documentary about Heizer's 340-ton boulder commute from Riverside County to LACMA.

---
Below is Jason Umfress' "The Light of the World: The Good Shepard" taken at the Los Angeles Art Show. It's been feeding the Instagram and Tweet accounts of the street art multitudes.