Photo: PaintThisDesert
Just as eastern cities are built–out from river and ocean ports transportation, the west had rail to link transportation hubs. The former Union Plaza, the casino named after the Union Stations once on the site, was recently renamed to the Plaza. I went there Saturday morning and there's a fragment of that heritage on an abandoned mural in a dark corridor to an abandoned station.
The acrylic mural sits in its own gloom along a ramp-like connector between the hotel lobby and the boarding platform at the rear of the newly renovated Plaza. The only light is a single small chandelier and sun from an open door to the former Amtrak station.
It was painted in 1983 as a brand booster for the Desert Wind, the 811-mile Amtrak route that used Las Vegas as a major stop between Los Angeles, California, and Ogden, Utah between October 1979 and May 1997.
A brief 1984 Los Angeles Times article ran the headline "Union Plaza mural shows railroad from 19th Century into the future" and reported the mural was painted on three panels by "Sylvester Collier, art teacher at Cannon Junior High, Laura Chambers, art teacher at Robison Junior High and Paul Collier, an art major at the University of Nevada, Las Vegas." The mural is signed by S. Collier and Laura Chambers and dated 1983.
The piece presents the past, present and future of rail in the southwest circa early 1980s. From right to left, it begins with a 19th century steam locomotives crossing empty desert land. The second section has the southwest states in the background of the centerpiece Amtrak train. The third part is a futuristic Las Vegas with a monorail heading toward Union Plaza. The colors of Amtrak wings sweep through the work, and skyline silhouettes include Vegas Vic, now trapped by the metal canopy of the Fremont Experience. There's also the sign from the Dunes, and the tower of the Landmark Hotel, two casinos that were shuttered and said goodbye to the Strip with implosions that were ceremonial public spectacle since the mural was painted.
There's no image of the two former train depots that were once the site, a
1905 Spanish
Colonial design, which was replaced by a
Streamline Moderne depot
in the 1940s. That was razed for Union Plaza in 1970.
With no room or reason to use that space to expand a lobby, or stick in a row of slot machines, the mural being hidden away is what have what saved it. Websites with chatter by railroad enthusiasts reveal fondness for the work, plus some are giddy on how the station was essentially part of the casino. Now there are
new calls
to revive studies for the route to reopen after attempts for new service have their federal funding flounder. For now, new plans and old depots are ghosts near the lobby and the mural is a footprint.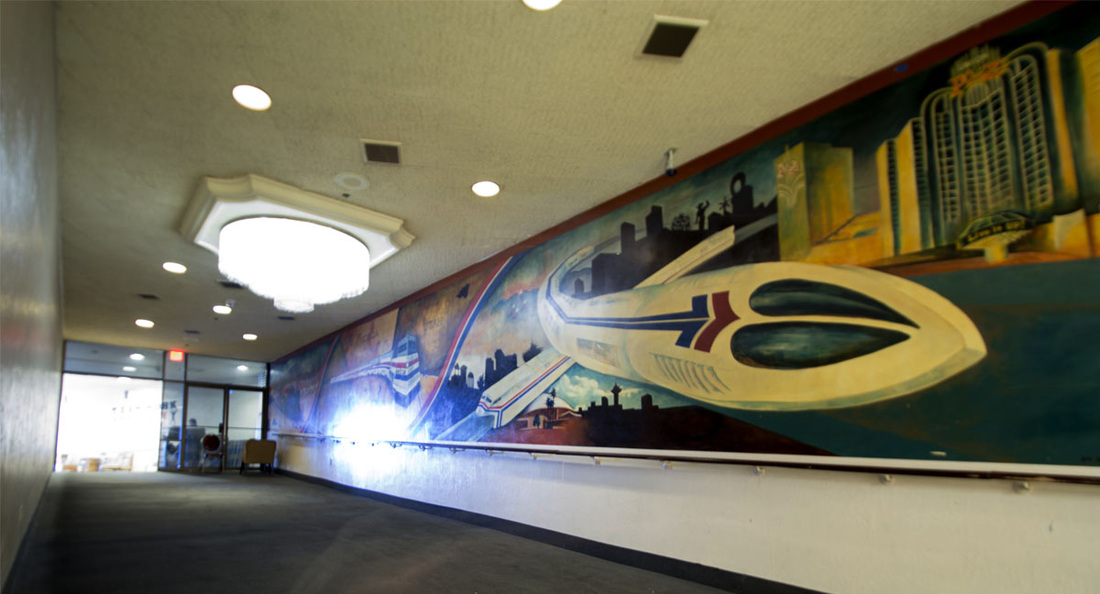 Photo: PaintThisDesert