LINK TO INK LEAD-IN: Roadside artifacts attract travelers unless you are Nelson, Nevada, the ghost town south of Las Vegas that's on a back winding road within steep brown canyons. This site in the former mining town lives on its reputation for rusting vintage cars, leftover mining equipment, road signage, and buildings scattered on the grounds. This plane, presumably a leftover from the film "3000 Miles to Graceland," is set against a white stone hill, isolated away from the found art and debris to be photogenic (for a small fee). That strategy makes this an installation with an intriguing story, both real and imagined, creating illusionary folk art vernacular. The dangerous mystery of this wreckage is diffused if you make an online search for "plane" and "Nelson Ghost Town." It's a popular backdrop for wedding photos.

Photo: "Nelson Airport" I PaintThisDesert


LOCAL
The Neon Museum and Boneyard Park had 60,461 visitors their first year of operation. The early estimate was 45,000 to 50,000 visitors a year.
Review Journal
NY Times has been tracking Crystal Bridges Museum of American Art's search for unknown artists. As noted earlier, they were in Las Vegas in January.
A Feb. 8, 2014 article
charted the art seeking mission. The story also had this quote:
"You see a lot of work that starts to look the same, a lot of artists who have a career locally but aren't going to be able to make the jump, and then every once in a while you find that artist who blows you away, who you just can't believe, and it makes all the miles worth it," Mr. (Don) Bacigalupi said, describing a recent discovery of a young artist in Las Vegas who mashes up art-historical imagery with that of Latino street culture. ("Think Henry Moore meets a piñata, " he wrote in an email.)

GLOBAL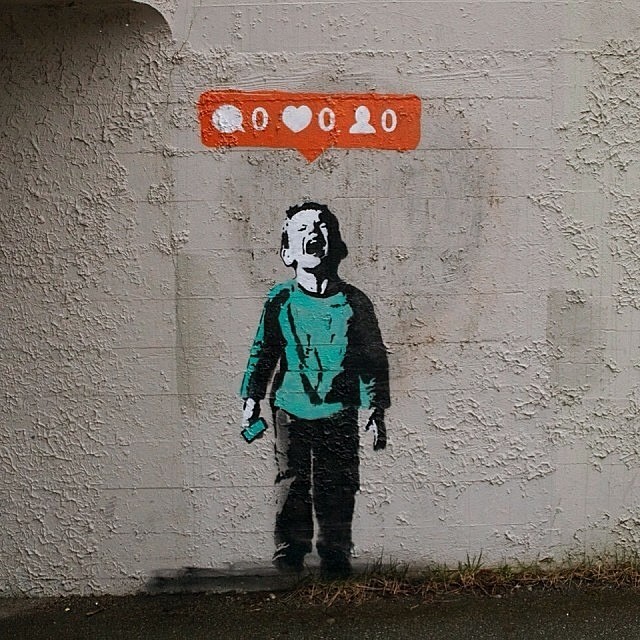 Vancouver street artist, IHeart, throws up commentary that needles how some need social media for personal gratification (above). His work has been getting a lot of attention when it was linked on
Facebook by Bansky.
PolicyMic on the street art coming
out of the Ukraine.
A Pac-Man mural, a knock-off of street artist Invader, was installed on a wall in China. It was removed by officials. There was public outcry. Then one day it appeared again, reports
South China Morning Post.